FIND THE BEST PLACES FOR FAMILY FUN
Make Great Memories of the Fall Season & Halloween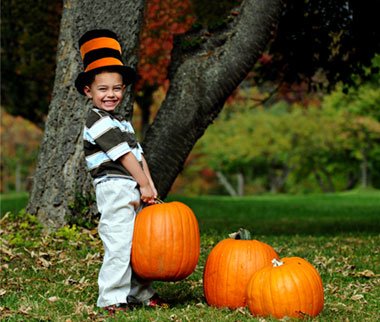 Every year in early September, when it's right after back-to-school time, kids are already thinking about Halloween and visiting a local pumpkin patch! So the time to start planning for your family's visit to a pumpkin patch is now.
Of course not just any pumpkin patch will do.
You need a place to buy pumpkins that's convenient and also provides a family-friendly experience during weekend hours.
You need a pumpkin patch that has reasonably priced pumpkins or a pick-your-own pumpkin farm; and Halloween decorations and fun Fall season and Halloween activities for children of all ages.
Want to find nearby pumpkin farms that are family-owned and operated where the kids can do pumpkin painting, or find fun, easy-to-do ideas for jack-o-lantern pumpkin faces?
Which pumpkin farm also has apple picking?
Is there a pumpkin patch close to home that has a corn maze too?
All of these questions and more are answered in the Pumpkin Patch Guide, a free service for Halloween and pumpkin patch loving families: moms, dads and kids of all ages. The Pumpkin Patch Guide helps you and your family find answers to just about any questions about what to do or where to go when it comes to the Halloween season, pumpkin patches and other Fall and Halloween fun including:
Where to find the closest you pick pumpkin patch that's the most fun for pumpkin picking.
Which pumpkin farms have giant pumpkins and free hay rides.
Does a pumpkin patch have pumpkins for carving jack-o-lanterns and small pumpkins for painting pumpkin-faces.
Reviews of the local area pumpkin patches and pumpkin farm stands.
What other moms and mothers are saying about the pumpkin patch where they go every year as part of their family's annual Halloween tradition, for example: ' We love this place. It's where we buy our pumpkins and Halloween decorations, and it really makes the Halloween season my favorite of all our family holidays because we're outside in the fresh air, there are lots of hands-on activities for children and we always get the best pictures for our annual holiday card!'
Do any pumpkin patches or pumpkin farms have a corn maze for toddlers and preschool age children?
Which pumpkin patch also has u-pick apples, fresh apple cider, home made apple pies and warm cider donuts?
Is there a local pumpkin farm that has tractor rides and apple picking?
Find out now by searching our expansive pumpkin patch directory.

The Kid Who Became: The Kids Halloween Hero ®
The Pumpkin Patch Guide makes it easy to plan a family visit to a pumpkin patch or apple orchard. It's a free service for moms, dads and kids of all ages who love to get outdoors and go to buy a pumpkin, pick apples, take a hay ride, or wander through corn mazes.
The Pumpkin Patch Guide has answers to any questions about where families should go for outdoor fun during the Fall and Halloween season, including:
What are the closest locations to buy pumpkins and have a family-friendly experience outdoors during weekend hours?
Are there pumpkin farms or apple orchards that have both apple picking AND you-pick pumpkins?
Is there a conveniently located pumpkin patch that has a corn maze and hayrides too?